What do these poor unwanted misfit toys have in common?
Misfit #1: An
Oregon Scientific All Hazards Emergency Alert Monitor
that tunes into NOAA weather radio. It also has a compass, a thermometer, an alarm clock, a lighted face and a belt clip. It runs on three AA batteries (included). I bought this misfit toy about 20 years ago. It's seen some light use on camping trips, but is still in very nearly new condition and works fine.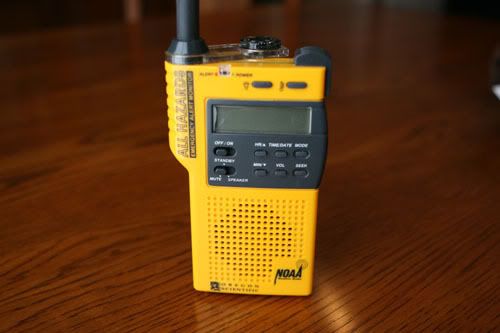 Misfit #2: Three "looks-sorta-like-pewter" photo frames. Two of them have the original papers in them and one has a picture of my daughter and I from last summer. Yes, calm down, you get the picture too! These too have been lightly used. Then again, how do you heavily use a picture frame?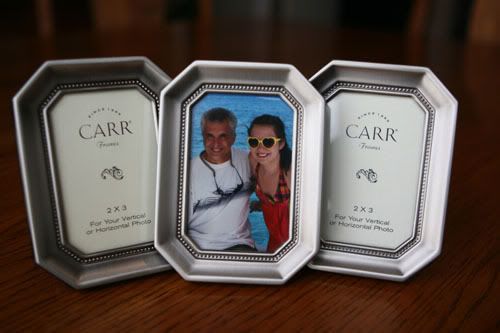 Misfit #3: A
Dr. Scholl's infrared massager
with five interchangeable attachments. I got this misfit toy at Mindy's family Christmas exchange 2007. It's never been used. It has a long handle angled like a back scratcher. The head swivels and the infrared thing heats up. It plugs into an electrical socket.
Misfit #4: They love me at Cabela's. I have a Cabela's Visa. Every now and then, they send me a fabulous prize for no apparent reason. This misfit toy is a
folding lockback knife
. Looks like a dandy, but I already have several knives.
Misfit #5: You need coasters and you need photo frames. So why not combine the two? This misfit toy was a recent Christmas gift. Now you would think that I, enjoying photography as I do, would want to keep these. And I will say they are a pretty darn nice present. But for whatever reason, I have a mental hangup about setting cold wet beverages on top of my pictures. Go figure.
Misfits #6 and 7: A couple of
Pike Street comfort throw blankets
. These are sort of a quilted kind of thing. The cover is microfleece or something of that nature. Soft, comfy and warm. They are 50" x 70" in size, perfect for snuggling on the sofa with that special someone. I bought a bunch of these from Amazon when they went on sale and gave them for Christmas presents in 2006. Now I can't remember who I've already given them to and I have these two left that need homes. Still new in the original bag, these misfits have been in the top of my closet too long.
Misfit #6 is chocolate...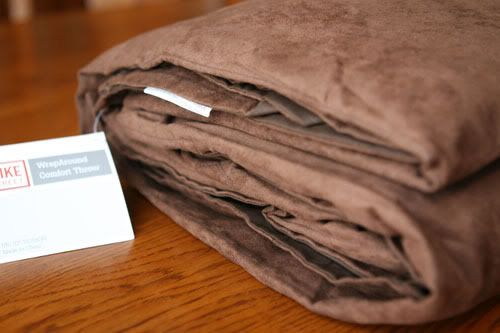 ... and Misfit #7 is beige...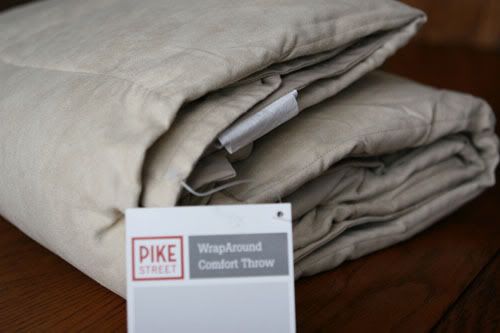 OK, so what do these seven misfits have in common? They all hope to be selected by one of the lucky winners of
my giveaway
. I will draw three winners from these fine folks...
1
Cher
, 39
2
thedomesticfringe
, 28
3
trash talk
, 25
4
ALVN of WhisperWood Cottage
, 19
5
Beth@playinwiththepaulsens!
, 16
6
summersundays-jw
, 6
7
Tracy
, 5
8
Phyllis
, 4
9
Hi! I'm Cindy
, 4
10
Margo
, 3
11
Tim
, 2
12
deb did it
, 2
13
cheryls fascinatingfinds
, 2
14
The Hat Chick
, 1
15
2L3Bs World
, 1
16
Antiques and More Blog
, 1
17
THE VERANDA
, 1
18
MuseSwings
, 1
19
jen
, 1
20
bella shabby
, 1
21
delighted heart
, 1
22
time-worn interiors
, 1
23
Shannon @ Silver Trappings
, 1
24
Moonlight Hollow Musings
, 1
25
Janera
, 1
26
philben5
, 1
27
Stonefox (otherwise known as Heidi)
, 1
28
Garden Antqs Vintage
, 1
29
Sie
, 1
30
Debi
, 1
You notice I've numbered them on the left. Easier to draw numbers than names. The number on the right is the number of times the number on the left will be entered. As stated before, once your number is drawn, you can't win again. Clear as mud? I thought so!
I will draw the first winner probably this weekend. They will pick one of the seven misfits above to go home with them. A day or two later I will draw the second winner and they will make one of the six remaining misfits very happy. A day or two after that I will draw the third winner and they will choose which of the five remaining misfits gets a new home. The last four sad and rejected misfits will be returned to the island. Sobbing uncontrollably no doubt! Poor, poor misfits!