I am working in my warehouse today. It's over 100 degrees in there and I'm working alone. Of course, I'm concerned about heat stroke and such because there would be no one to revive me or drag my butt back into the air conditioning! I am cognizant of the inherent dangers. So I'm drinking lots of water and taking frequent cool down breaks just to be on the safe side. Figured posting a blog from my air conditioned office would be a nice thing to do while I'm cooling off, so here I am!
I love a good statue! And
Mindy
and I got to see lots of interesting statues in Boston on our recent vacation. I thought maybe you'd like to see some of them. This first one is a memorial dedicated to Colonel Robert Gould Shaw and the all-black 54th Massachusetts Volunteer Infantry that he led. The movie "Glory" is based on the story.
Colonel Shaw was killed in battle and was buried by the Confederates in a mass grave along with many of the black soldiers who served under him. This was intended as an insult to the white officer.
Said the Confederate General, Johnson Hagood, "Had he been in command of white troops, I should have given him an honorable burial; as it is, I shall bury him in the common trench with the negroes that fell with him."
Colonel Shaw's father had a different take on it, stating, "We would not have his body removed from where it lies surrounded by his brave and devoted soldiers....We can imagine no holier place than that in which he lies, among his brave and devoted followers, nor wish for him better company – what a body-guard he has."
Good stuff! Mindy and I really enjoyed this next one, the Hungarian Revolution Memorial.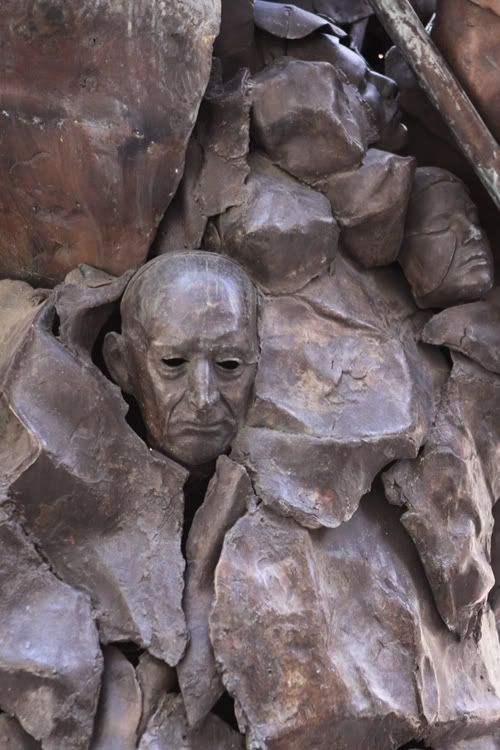 Mindy and I were both fascinated by the faces on the memorial base. They are among the rubble of war, depicting the lives lost in the revolution. The centerpiece of the memorial is a woman standing atop the rubble lifting a baby toward the sky. I think this represents a new beginning. Hope. Freedom.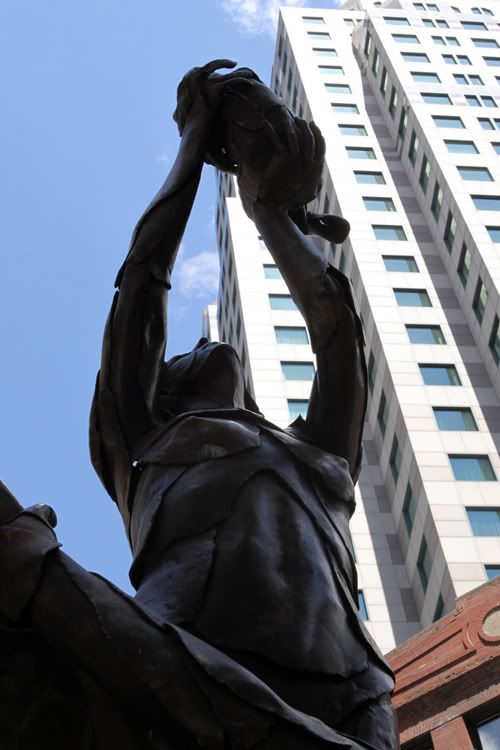 It's really hard to capture the full impact of this memorial. I knew nothing of the Hungarian Revolution, but this made me want to learn about it. Here's what John F. Kennedy said on the first anniversary of the Hungarian Revolution.
"October 23rd, 1956 is a day that will live forever in the annals of free men and nations. It was a day of courage, conscience and triumph. No other day since history began has shown more clearly the eternal unquenchability of man's desire to be free, whatever the odds against success, whatever the sacrifice required."
I think President Obama should think about that.
This next statue is dedicated to General Joseph Hooker. Known as "Fighting Joe," he had a long and distinguished military career. But he is best known as the man who defeated General Robert E. Lee.
Behind the statue of General Hooker is the State Building with it's gold lief gilded dome.
But not ALL of the statues we saw in Boston were dead! No, some were very much alive!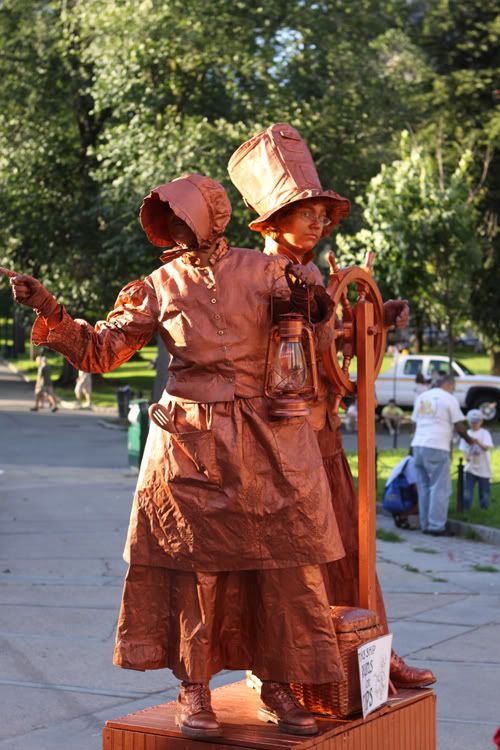 These two young ladies are called "Living Statues." They remain as still as a statue until you put some money in their tip container. Then they move for a few seconds, freezing in a new position.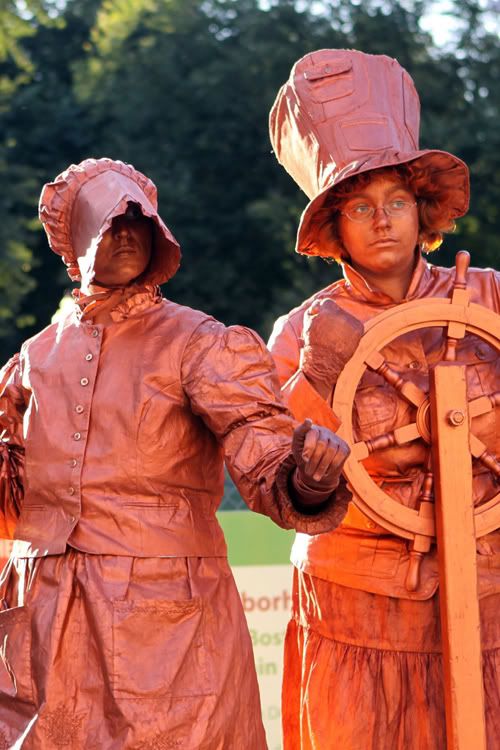 Pretty cool, huh? The boys can do it too!
Doesn't he look stoic?
Well, I'd probably better get back to work! Thanks for the break!