The new and improved bulldog trailer is ready for the Zapp Spring show! This is what it looks like today...
But I thought I would give you a few "before" pictures too, so you can see how far it's come! You may recall that before the Zapp Fall 2009 show, I purchased a 24' cargo trailer that
Mindy
and I took to Warrenton. I have been working on remodeling the trailer almost since the day I bought it. This is the way Mindy and I found it last September...
As you can see, it was previously owned by the Quitman H.S. Bulldog Proud Blue Band. We immediately dubbed it "The Bulldog."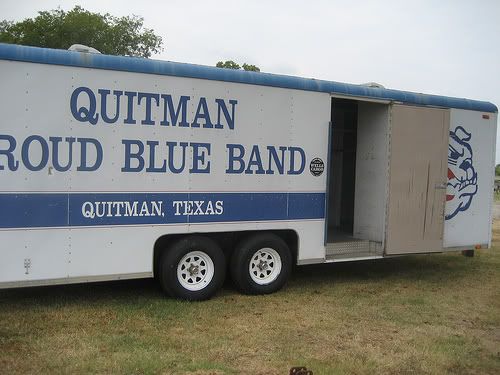 It was full from front to back with these wooden shelving units. Perfect for hauling marching band instruments! We hoped they would also be good for hauling small antiques. Here is the view from the back.
And here is the view from the front.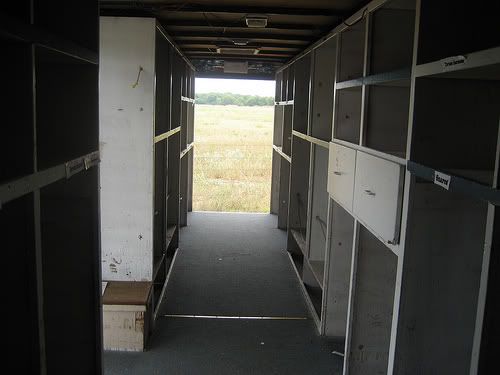 With the Zapp Fall show fast approaching, the first order of business was waterproofing the roof. I fixed a few minor leaks and put a coat of elastomeric coating only on the seams. I put on new tires. I also got the stickers scraped off, although you could still see where they had been...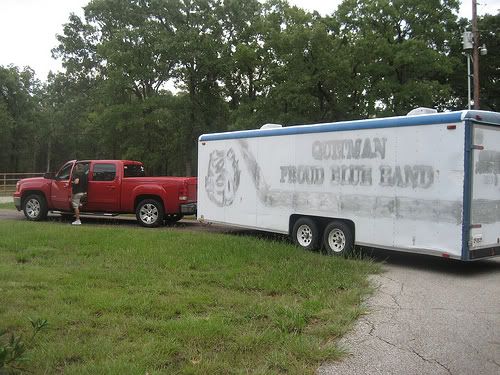 That's really all I had time to accomplish before it was off to Mindy's to load for the Zapp Fall Show. But we quickly found out we didn't have enough room for her larger antiques. We decided to remove two of the shelving units from the back of the trailer and one from the front. They were installed back to front and there was no way to get the back ones out in one piece without removing them all in the reverse order that they were installed. We certainly didn't have time for all that so....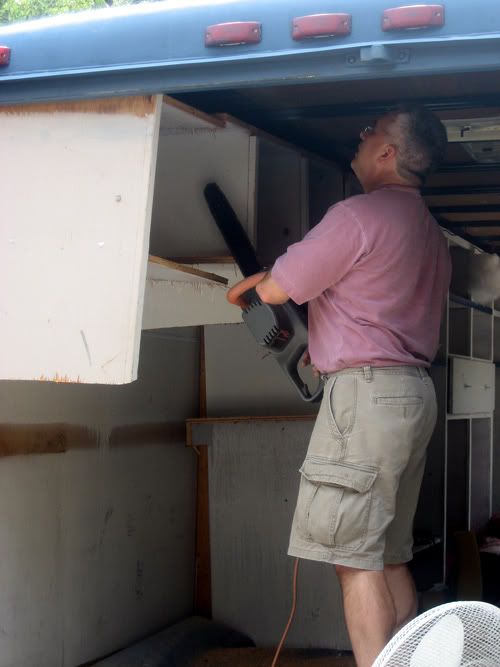 Yes, I took a chainsaw to them and removed them in pieces! See? More room for big stuff!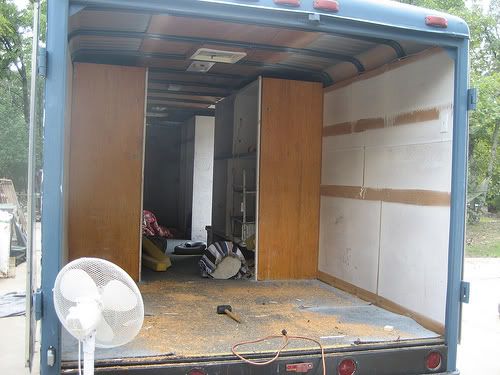 And that's the way we took it for the Zapp Fall Show. I know many of you saw it at that time. Well, since that show, I've had a lot more time to work on it in the warehouse. The outside has been completely repainted with tan epoxy and the top coated with white elastomeric...
The black steel was also repainted.
I ordered these stickers. It's still "The Bulldog!"
I decided to install an electrical system. When parked at Warrenton, the power comes in from the bottom. The box on the left is a 3-wire outdoor male recepticle that receives a standard extension cord. Two outgoing extension cords can be plugged in on the right to supply power to Mindy's tent.
Inside the trailer, the electricity goes to a power converter box. The box serves three purposes; it contains breakers for the various AC circuits, it converts AC to DC power to run the lights and it recharges the deep cycle battery so that the lights can be used even when the trailer is not plugged in. Since it's only running lights, I didn't need a large capacity RV or Marine size battery. This one made for wheel chairs works just fine. How do you like may fancy cake pan battery tray?
Here is the front side of the power converter box. There is a main breaker, one 20 amp breaker and two 15 amp breakers. There are also fuses for the DC circuits. I went ahead and installed a 12v "cigarette lighter" type receptacle in case we need it for a phone charger or something.
One of the 15 amp circuits is dedicated to the microwave. The other is dedicated to the refrigerator. No more ice chests to deal with! And we can easily reheat our leftovers. This will make life at Warrenton so much more convenient!
I installed new rope retainers for the larger cubbies. There's a snap swivel on each end that attaches to eye bolts. This was an original feature from when it was a band trailer, but they needed to be replaced.
The old carpet was in pretty bad shape. So I tore it all out and replaced it. This carpet is not new either; it was salvaged from an office building remodel. But it's in a lot better shape than the original carpet. It really looks ALMOST new. I also installed all new metal transition strips. I repainted most of the interior.
There are a total of 16 interior electrical outlets, all on the 20 amp circuit. This should make it easy to always find a place to plug in a fan, a laptop, a calculator, a power tool, etc.
Now it's time to load the trailer and get ready to roll!
See you in Warrenton!