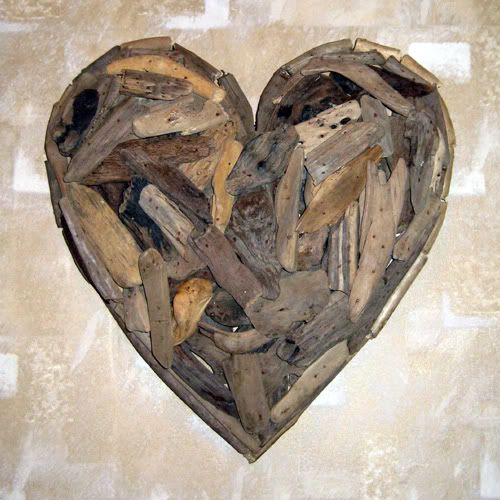 First of all, I'm not done boring you with the snake pictures! I have at least one more, OK maybe two, that I'd like to share. But you deserve a break, so let's talk about something else today.
The photo. Pretty cool, huh? That's a heart made out of driftwood. It may be hard to tell the size from the picture, but it's over a foot. It was a "just because" gift from my sweetheart,
Mindy
. So sweet! It goes great in my house and I do think it's beautiful. But I love it mostly because everytime I look at it, it is a happy reminder of how much she loves me!
I got another love reminder today. She is planning a birthday weekend trip for us. It was a surprise, but logisitically speaking, she had to let me in on it now. She did say "Surprise!" I love this woman!
Speaking of love gifts, you can help me extend one to my daughter, Alissa. She just started blogging and could use some encouragement. You see, her blog is about weight loss, dieting and exercise. She's gone so far as to post her weight, BMI and percentage body fat on her blog. Yes, she's very courageous to put this out there! It gives her accountability.
If you could drop by her blog and give her an encouraging word, I would appreciate it. I know it would mean a lot to her to know that she's not alone and that your kind words of encouragement and support would really help her. Especially if you've ever struggled with weight, yourself. And if you'd like to be her follower, so much the better. I'm so very proud of her for doing this! A lot of people desire to make positive changes in their lives, but she's doing something about it! She rocks!
Here's her blog link.
THANK YOU!