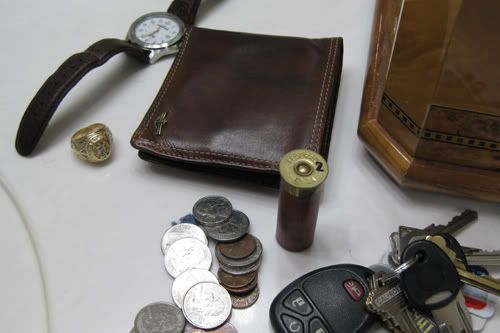 You probably already know what this picture means, but I'll explain it anyway. Yes, there were only supposed to be THREE drawings. You are correct. I am very happy for everyone who won the drawings. But as I got to the end, something was bugging me just a little bit. Even though I weighted the drawing according to the number of comments, the people at the top of my list who have given me the most comments and blog support hadn't won anything. As I contemplated the possibility of that happening, I told
Mindy
that I
might
have an additional drawing. At least I was kicking around the idea. She thought it was a fine idea.
When I was at A&M, I took a course in statistics and probabilities. If you've had such a course, you know it starts out kind of fun, but then becomes very difficult and not so much fun. Well, from what little I could remember from the fun part, I could hardly believe that no one from the top four in commenting had taken a prize. Perhaps that would change with a fourth drawing. Or perhaps not.
Of course, the problem with that is, the luck of the draw being what it is, you just never know. I debated this all in my own mind, even as I was publishing my last post. So I ended my post with, "So, folks, is the giveaway fun over? Hmmmm. Not necessarily" just to leave the door open. But I still hadn't decided at that point. What if I drew someone far down the list? Would I have a fifth drawing? A sixth? A seventh? It could get crazy. The more I thought about it, the more I was starting to lean against having a fourth drawing. I had just about decided to just let it go. Call it quits. Let it be finished.
Fast forward to this morning. At my house, Thursday mornings are hectic. I probably shouldn't even admit this to you, but I have a lady who comes to clean my house on Thursdays. Yes, it is wonderful, but she only cleans, she doesn't straighten, etc. So Thursdays are called "housekeeper day" around my house and the morning is very busy "getting ready for the housekeeper." Hey.... keep those tiny violins quiet!
So I'm rushing around this morning in my bath robe really not thinking much about blogging, the giveaway or anything else not related to getting the house straightened and myself ready for work. Just as I was about to get into the shower, this thought popped into my head, "David, just go pull out a shotgun shell. Don't think, just do it!"
So I went straight to my closet, unzipped the bag just a little and very unceremoniously slipped my hand inside. I grabbed a shell and held it in my closed fist. "Be a low number, be a low number, be a low number!"
I opened my hand. TWO! Ahhhh. I think I can stop now! THE END.
Congratulations,
FringeGirl
. By now, you know the drill. Pick your prize and email me a shipping address.
Cher
, when you said you were unlucky, I REALLY thought one of my drawings was bound to prove you wrong. I stand both astonished and corrected!
Deb
, I know you have more important things on your mind right now. Prayers for your daughter continue.
Amy
, I love looking at your photos. And thanks for following my blog.
To everyone, I sincerely thank you. I appreciate all who have read and commented. And I hope this was fun for you, whether your number was drawn or not.
We now return you to your regularly scheduled blogging.