I don't even know what to say. This sign went up across the street from my office in Mesquite, Texas. Seriously. I can't make this stuff up, folks.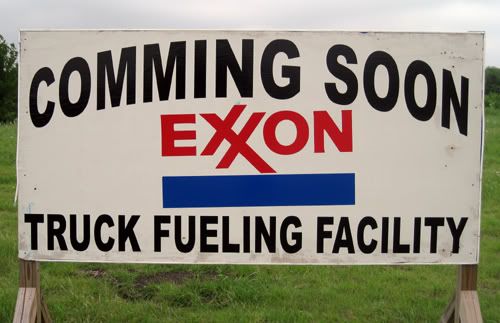 I guess big trucks will be comming and going at all hours of the day and night. There goes the neighborhood.
Also comming soon to a photographer near and dear to you... a Canon 50D. Yes, I pulled the trigger on a camera upgrade this morning. Should be here middle of next week. I have no justification for this extravagance. Other than I got a nice tax refund. Well, that and 15 is a bigger number than 8. It's almost twice as big, in fact. Now I can print life-sized photos of
Mindy
without loss of resolution. Cool!
Here's something else that's been a little while in comming...
Amy of
Whisperwood Cottage
tagged me with a "
Six Things About Me
" meme. So now I'm playing along. She knew I'd comme around eventually.
I'll avoid the obvious stuff like I love
Mindy
, photography, hunting, etc. I figure if you've read my blog, you already know all that. But here are some things you might not know.
STEP 1: 6 THINGS ABOUT ME
1. I had to Google to find out what a
meme
is!
2. I am often absent-minded or forgetful.
3. I am often absent-minded or forgetful.
4. I am allergic to Benadryl. That's an allergy medicine. Let that sink in for a minute.
5. I love a good margarita. On the rocks. Not too sweet. Salt on the rim.
6. Briefs.
STEP 2: TAG, YOU'RE IT!
Whew! Now it's your turn. These are the people I'm tagging...
1. Beth at
Playin With The Paulsens!
2. Tracy at
A Simple Country Life
3. Jan at
Summer Sundays
4. Cher at
The Texas Woman
5. Tricia at
the domestic fringe
6. Brett at
The Vintage Husband
Your mission, should you choose to accept it (and it's strictly optional, people), is to post six things about yourself, identify six new people, and let those people know they've been tagged. Oh... and link back to this post, if you don't mind. Now, you don't have to do any of this. No pressure! But if it's not too much trouble and it doesn't cramp your style, you're certainly invited to play along. Have fun!
And comme back and see me real soon!