This post might be better for an
f-stop friday
. But I expect to be away from the computer for the next couple of Fridays, so I decided to post it today.
On a website I frequent, there's a bi-weekly photography contest that I usually try to enter when I can. This time, the subject is "Reptiles" and entry ends tonight at midnight. Now, you would think this contest would be right up my alley! I mean, think about it... photography and snakes. What's not to love?
But despite almost two weeks of keeping an eye out for reptiles, up until Saturday, I didn't have anything to enter. Then I happened to look out Mindy's back door and... would you believe it?... a copperhead was laying on her back porch! What luck!
It took me a bit to catch it, being that I was armed only with a fish net. But
Mindy
brought me a rubbermaid tub to put it in and then I headed to the woods in search of a natural setting for what turned out to be a nice photo shoot. This is the photo I entered in the contest...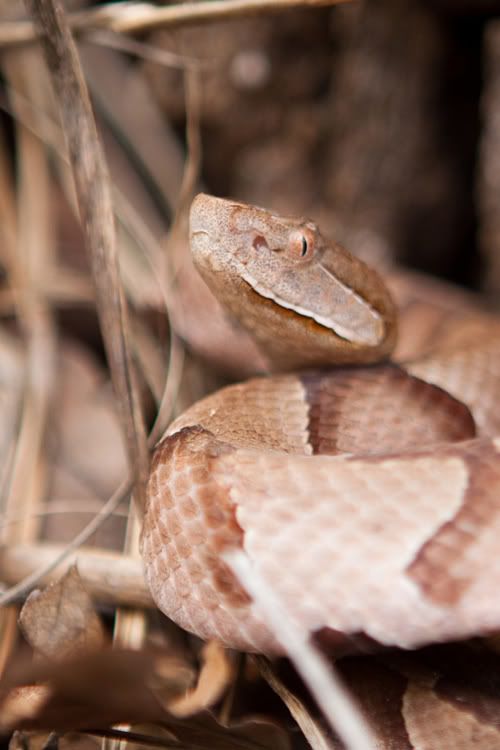 The winner will be announced tomorrow. Wish me luck! Here is the one I almost entered...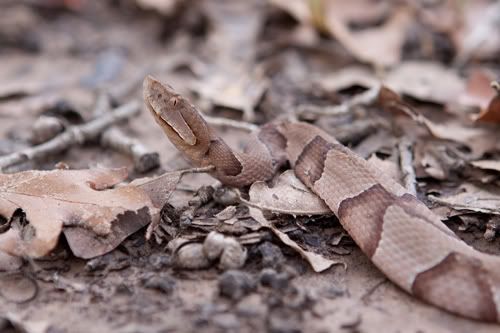 Out of lots of pictures, these were my two favorites. I thought I liked the second one better. Mindy liked the first one better. After looking at them side by side, I had to agree with her.
When not taking reptile pictures, Mindy and I were working our tails off getting ready for the Zapp show! Whew! I'm still exhausted! But I feel very good about what we got done. As this is likely my last post until we get back, wish us luck there too!