I happened across these gummy lumps today and thought I'd share. These are by my daughter, Alissa. I'm not sure the picture and story were done at the same time, but probably so. Hope you enjoy as much as I did!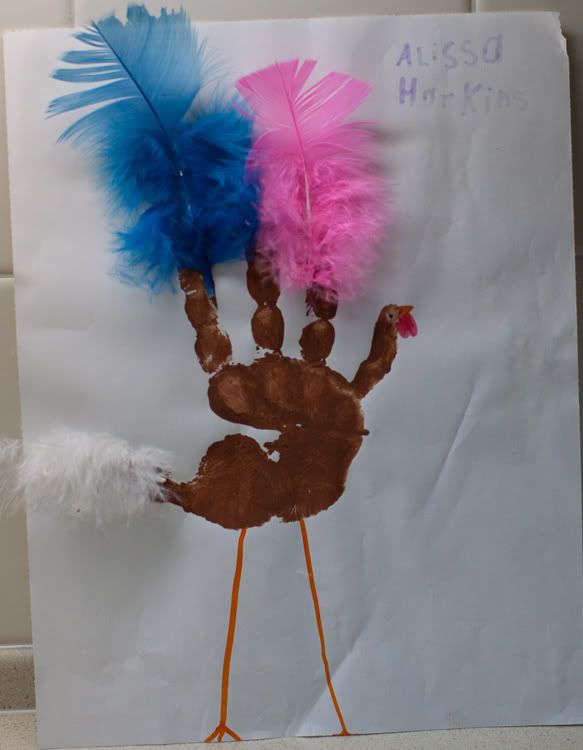 One cool, foggy, breezy morning just as the sun was coming up Tommy arose in a cheerful mood. Tommy stood sleepily and opened his eyes. He saw all of the Thanksgiving decorations. Then he started to shout, "It's here! It's here! Thanksgiving is here! Oh my gosh what am I going to wear? Maybe I'll finally meet Uncle Herman. I'm forgetting the best part, the food. This year I'll have mashed potatoes and corn and..."
Josh the lamb interrupted, "You're not going to eat the food, you're going to be too busy being the food." Tommy had such a thundershock all of his feathers fell off right as he said that. At first he didn't believe him but when he looked through the window and saw where each food as going to go mashed potatoes, corn and turkey, Tommy knew it was true. Josh was right. He was going to have to get a plan and get out of there ASAP.
He knew he wouldn't escape with all of the watch dogs guarding the fence. Tommy decided he should use a disguise.
He took his blanket and thought what could he shape out of this. Tommy could be the Whites' daughter! Tommy knew they couldn't consume their own daughter. He pressed the buttons on the sewing machine and it started to make it CH-CH-CH! When it was done he put it on. First he slipped on the blue dress with white lace. Then he put on a blond haired wig with two blue ribbons. After that he struggled on his black shoes. They were so tight it felt like a crab pinching his feet! "If I must," he thought. He just hoped it worked.
First he was scheming in the mirror to make sure the Whites would really believe that he was their daughter. Tommy decided he better drill on what he was going to say to the Whites. Wait a minute! He didn't know what to say! He started scampering around and around until he felt something on his foot. It was the piece of paper that he had wrote of what he was going to say. He walked up to the door. Tommy was so nervous. He barged right in the house just like it was his. He could hear Mr. White's grouchy voice from the kitchen. Tommy told Mr. White that Jan her friend had invited her over and said she would like to attend. Mr. White said she didn't look so good but he finally said it was okay. "How long are you going to be gone?" "Till six," Tommy replied. But he knew he wasn't going to come back ever.
Tommy was so happy. He started to march proudly toward the forest to seek his turkey family. He decided to be wild and free just like his pa. As he was taking his journey he thought he should be more careful of who he trusted and didn't trust. On most of the trip he was daydreaming about how wonderful it was going to be spending time with his family again. Once he got there he could hear Mr. White yelling and screaming miles away. Tommy started to run around rejoicing that he wasn't going to be eaten! The other turkeys heard him and started to hide.
Alissa Harkins, 11-12-02 (Age 9)